Height of shamelessness was placed at 3-4 feet height while the banner was more than life-size
Anupama Sharma
Jammu, March 4:
Sound it may credible, but for state Bharatiya Janata Party (BJP), no issue, be it sensitive or a common, it seldom misses the chance to be front liners.
While the entire India mourned the unfortunate death of its soldiers at Pulwama attack on February 14, the local BJP leaders immediately popped up their vanities, did the make-ups and got photo shoots for 'morning and tributes'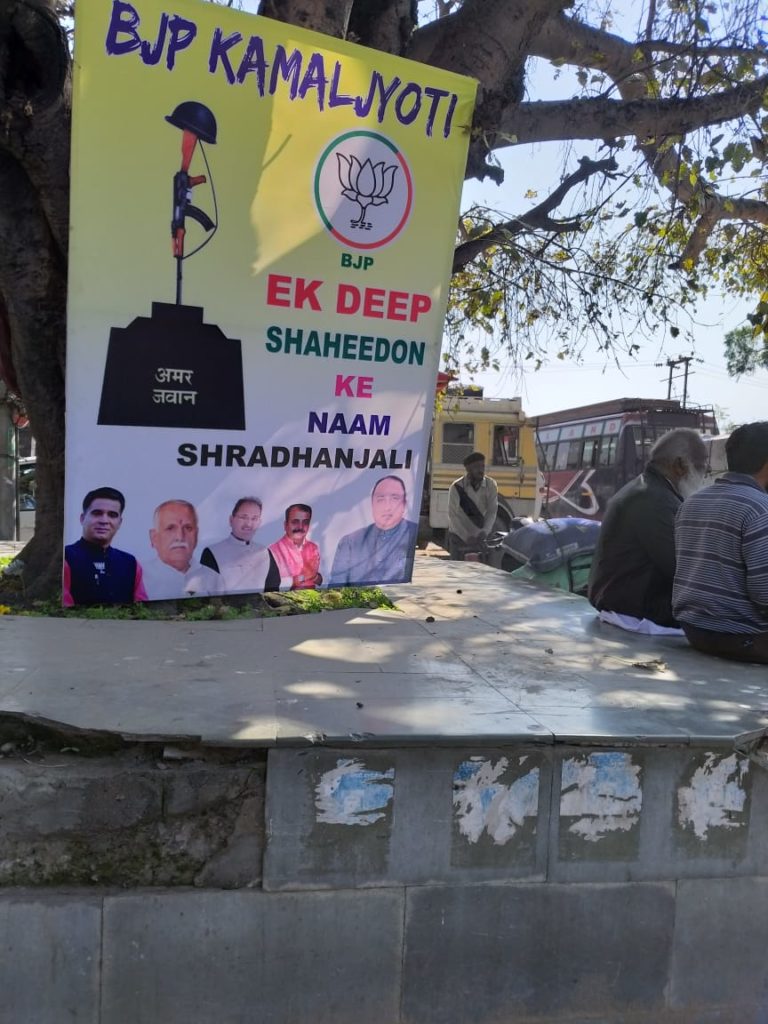 The height of shamelessness was placed at 3-4 feet height at Satwari chowk and the banner was more than life-size.
Entitled BJP KamalJyoti- Ek Deep Shaeedon Ke Naam Shradhanjali , the poster gave a very glossy look of some new Bollywood release with BJP leaders lined in picturesque moods .
More than 40 soldiers laid their life for motherland, but on the poster, none appeared, except the smile-ridden faces of the BJP 'Brave hearts"; from its state president Ravinder Raina to MP in Rajya Sabha Shamsher Singh.
The MLC Vikram Randhava's smiling picture on the poster might have mystified many onlookers as to whether the hero of filmy KamalJyoti was he himself or the 'moonfaced' Ravinder Raina, the president on the extreme left.
The irony about Shamsher Singh, MP RS is quite bamboozled. The MP's photo shoot always remain just fixed-an impression which never distinguishes his expression about the gravity or the sensitivity of the occasion. He has always one pose that is carried for all occasions.
The former Deputy Chief Minister Kavinder Gupta is no exception even. His persona too matches his colleagues in league with saffron lineage of downtrodden
There is no much difference with other BJP lot even like those popping up in KamalJyoti as BJP leaders are so much under the psycho-tyrannical influence of Prime Minister Narender Modi that they have forgotten their physical and mental psyche and have owned a camouflaged 'appeasing smile' since 2014.
However putting aside the state BJP's basic ideologue since 2014, the shamelessness of the party is very well versed with the people of Jammu who have disowned them after 2014 . "Since they might know to be disowned by the martyrs' even, thus they preferred their photo shoot on the poster rather than displaying the martyrs' for public obeisance"