"Fayaz Ahmad Fayaz, Principal School Education Department, attached in the Nucleus Cell (Academic Section), School Education Department Civil Secretariat, J&K shall be deemed to have been relieved from the School Education Department Civil Secretariat with immediate effect"
K Koushal
Realizing the mistake of contravening its own orders, the Jammu and Kashmir government has finally ordered the detachment of an alleged influential Principal, School Education Department, who has been ruling the roost at Civil Secretariat since last more than 12 years.
Following a news report carried by The Typewriter, "Validating the Illegitimate: Principal Secretary School Education Disregards GAD Circular, Assigns Duty to Attached Principal", the government passed an order detaching Principal School Education Department and relieving him from the Civil Secretariat.
https://thetypewriter.in/validating-the-illegitimate-principal-secretary-school-education-disregards-gad-circular-assigns-duty-to-attached-principal/
"In an order No 395-JK (GAD) of 2022, dated 05-04-2022, Fayaz Ahmad Fayaz, Principal School Education Department, attached in the Nucleus Cell (Academic Section), School Education Department Civil Secretariat, J&K shall be deemed to have been relieved from the School Education Department Civil Secretariat with immediate effect. He shall report to Director School Education Kashmir," reads the latest order.
It is pertinent to mention here that The Typewriter in its report stated that in contravention of law, Principal Secretary to the Government School Education Department, Jammu and Kashmir-BK Singh assigned significant duties to a Principal, who has been attached to the Civil Secretariat.
Principal Secretary-BK Singh had apparently disregarded GAD Circular No 22-GAD of 2018, dated 06-07-2018, which focused on cancellation of attachments of Government employees.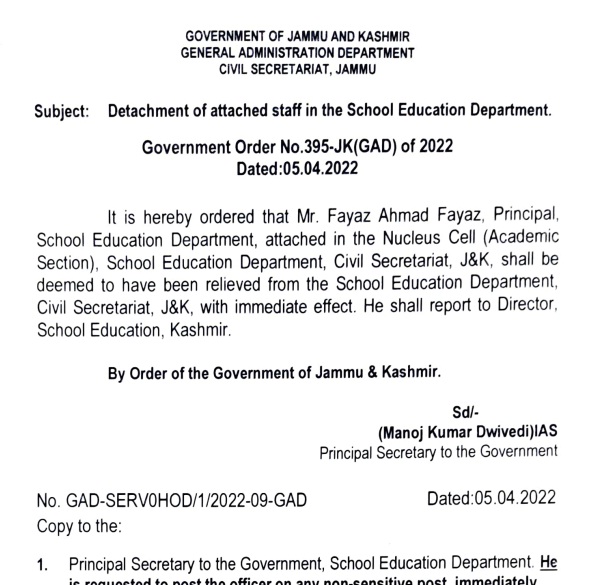 "The employees presently on attachment with their respective or other departments/officers shall be repatriated to their parent department/organization with immediate effect," reads the circular issued by Subash Chibber, then Additional Secretary to the Government.
It added that any official, who fails to join his parent department/organization after detachment, his salary shall be stopped by the concerned Drawing & Disbursing Officer (DDO), failing which the concerned DDO will be held responsible.
"In case where continuation of an employee on attachment is warranted under exceptional circumstances, the department concerned shall process his case for approval of the concerned Advisor for extension in his period of attachment which shall not exceed more than six months," reads the order.
However, BK Singh-Principal Secretary to the Government School Education Department 'disregarded' the above circular with all impunity to accommodate a principal, who has been allegedly instrumental in manipulating transfers of the teaching staff, despite being on attachment at civil secretariat since the past more than one decade.
"In partial modification of office order No 66-Edu of 2021, dated 02-11-2021, Mr Fayaz Ahmed Fayaz has been assigned the responsibility to look after the establishment matters of SCERT and Training matters including training in DIETS. He shall also look after academic matters related to JK BOSE, SCERT and planning," reads the order No 13-Edu of 2022, dated 08-03-2022. It added Fayaz shall also manage CSR funding Sports, Culture, IT, enrollment and all MOUs.
The order further assigned Fayaz Ahmed Fayaz with the duties to handle all establishment and administrative matters of NCC, Sainik School. He shall also look after Transfers and postings of Lecturer, ZEO and principal, besides all policy matters regarding transfers and promotion.
Sources stated that Fayyaz Ahmad Fayyaz has been attached to the Civil Secretariat for the last 12 years and is calling shots by preparing transfer proposals, doing regularizations, and promotions.
In a latest order issued by Principal Secretary to the Government, Manoj Kumar Dwivedi, the attachment of the Principal has been ceased.