"Like they brought outsider Vice Chancellor for Cluster University of Jammu, it appears they are more likely to consider non-domicile Vice Chancellor for Jammu University"
K Koushal
The search for a new Vice-Chancellor in Jammu University has abruptly gathered momentum after Lieutenant Governor in an impulsive move reduced the tenure of the incumbent vice chancellor-Prof Manoj Dhar from five years to three years.
In a latest communication, Lieutenant Governor's Secretariat clarified that the tenure of the Vice Chancellor, Jammu University shall be three years.
A letter issued by the office of the Lieutenant Governor's Secretariat, Jammu and Kashmir Raj Bhavan, Jammu with subject Terms and conditions of appointment of Prof Manoj Dhar as Vice Chancellor of University of Jammu states that in terms of section 12(5) and 12 (6) of Kashmir and Jammu Universities Act, 1969, the Chancellor, University of Jammu (Hon'ble Lieutenant Governor, J&K) has been pleased to order the following terms and conditions of appointment of Prof. Manoj Dhar, Vice Chancellor, University of Jammu, appointed vide this Secretariat order No. GS-3(Appt-VC)/JU/2018/5228 dated 23-07-2018.
As per order, issued by Principal Secretary to Lieutenant Governor, Nitishwar Kumar, tenure of the appointment shall be for three years (if the Vice Chancellor wishes to resign before the end of his tenure, he shall give a notice of 3 months or pay three months salary in lieu thereof).
According to highly placed sources in the Raj Bhawan, the tenure of Prof Manoj Dhar was for five years, starting from July 2018, but due to unknown reasons, it has been abruptly reduced to three years that too just couple of months before the end of term.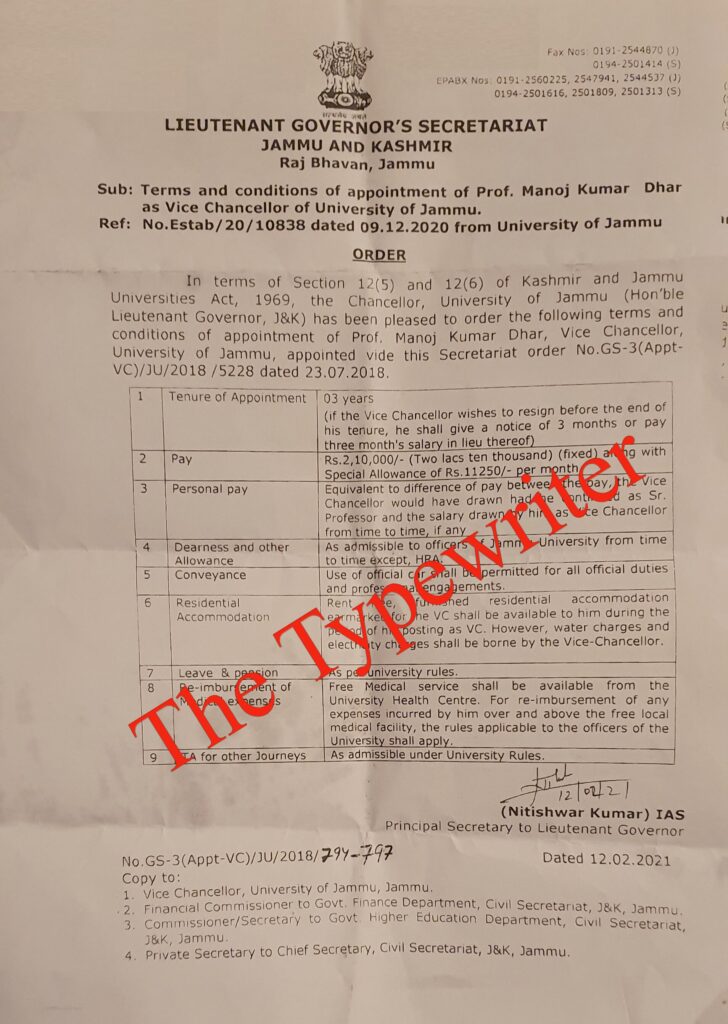 "The Jammu University (JU) management had earlier decided of intimating the Raj Bhawan to notify the search committee in this regard but due to political interference it was thwarted," said sources, adding that now the Registery has to do the same exercise in haste, to be precise before July.
Meanwhile, an academic expert claimed that the sudden reduction of tenure of incumbent Vice Chancellor makes it evident that Prof Manoj Dhar has failed to work as per the expectations of the Raj Bhawan.
"The duration of the term of Vice-Chancellors varies from three to five years. Five-year terms for university Vice-Chancellors give them ample time to experiment, formulate and ensure implementation of policies," said expert, adding that consensus among academicians is that a three-year term is too brief a period for a vice-chancellor to formulate and implement policies and plans.
It is difficult or rather improbable to make an impact, administratively or academically, in this short period, he said. As in the case of Central universities, a five-year term is being adopted by many States as a sound proposition.
"A five-year time will definitely help Vice-Chancellors to fully experiment with the ideas they conceive and fine tune them. In a three-year term, the successor vice-chancellor does not exhibit the patience to see the full implications of the schemes initiated by predecessors. They come with their own agenda, affecting the stability and cumulative progress of the system," says academic expert and former vice chancellor of Jammu University.
He, however, asserted that there are some crucial factors that need to be addressed. "Getting the right person for the position is never easy. Acts and statutes that govern appointment of VC vary from one university to another. There are many factors that go into identifying right persons to the key position in university," he added.
A senior Professor of Jammu University, wishing not to be named said that heads of the state are the ones who determine the actual choice of vice-chancellors, based on merit. "It therefore becomes imperative that they desist from appointing VCs on the basis of political affiliation, but Jammu University has been plagued with the nepotism and favoritism in case of appointment of Vice Chancellor," said senior professor.
If sources are to be believed, the Lieutenant Governor is mulling to bring non-domicile Vice Chancellor for the Jammu University.
"Like they brought outsider Vice Chancellor for Cluster University of Jammu, it appears they are more likely to consider non-domicile Vice Chancellor for Jammu University," said sources adding that role of ruling Bhartiya Janta Party (BJP) cannot be condoned in the recommendation of names.
When tried to contact Prof Manoj Dhar for this new development, he was unable for comments.