Sanchita Raina
Even when the right wing organisations, especially ruling Bhartiya Janta Party (BJP), have hopped the streets and social media platforms to register their protest against the 'controversial' cartoon shared by Advocate Deepika Singh Rajawat, no objections and protests have been carried against the statement of BJP's favourite Rekha Sharma, Chairperson National Commission for Women (NCW), who tweeted that "Pujaries and Shankrachartas are so starved of sex and have no morals that they will start raping women, who enter in temple".
Not only this, NCW Chairperson, Rekha Sharma this year commented that they (NCW) had made the recommendation to the Home Ministry, "as the priests were misusing the confession to sexually exploit women and blackmail men for money," she said.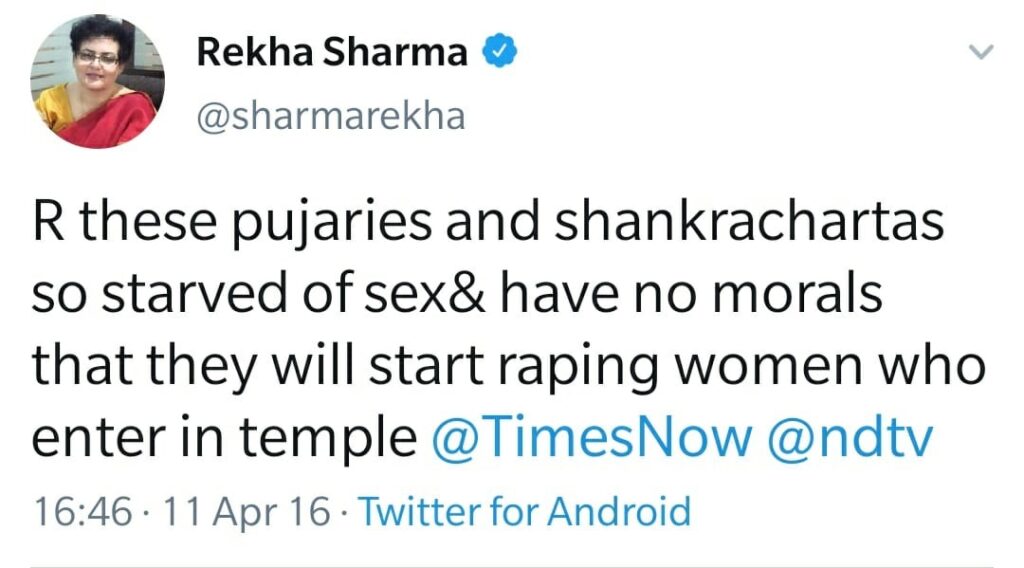 But, there were no protests and objections from the BJP and other Hindu right wing organisations against it.
"You can imagine the level of hypocrisy these BJP supporters and leaders have. They did not mince a word of condemnation against these people, rather elevated them to the highest positions claimed to secure women's rights," said a women activist, wishing anonymity.
She stated that there were deliberate attempts to malign the image of Advocate Deepika Singh Rajawat, who had not targeted any religion, but the mindset. "A leader of MoS stature hit the streets to protest against Deepika, who has been vocal against human rights violations against women and children, but these leaders did not find it wrong when chairperson of NCW called Pujaries and Priests starved for sex," she said and added that these people not only polarised the society in the name of religion, but have also divided Hindus, by creating 'false narratives'.
"I want to ask them, are not rapes happening in our society?," said women activist, adding "deliberately giving it a religious colour is unfortunate."
However, Rekha Sharma has locked up her Twitter account from public after she drew the ire of social media users who dug up and shared her old controversial tweets demanding her removal from the panel.
Meanwhile, Rekha Sharma has lodged a complaint with Twitter India, claiming that her account has been hacked.
It is pertinent to mention that BJP is all up arms against Advocate Deepika Singh Rajawat, accusing her of hurting the religious sentiments of the Hindus by sharing a cartoon.
The right wing Hindu organisations have also reportedly mobbed the house of Advocate Deepika, 'threatening'  her amid slogans 'Deepika teri kabar khudegi Jammu Kashmir ki Darti par'.
Talking to The Typewriter, Advocate Deepika Singh Rajawat said that she doesn't know how they connected it with Hindu sentiments.
"I am proud Hindu, I cannot afford to malign my own religion, but there is a section of political parties, especially so called saviours of Hinduism, who have spun the entire narrative to show me anti-Hindu," said Deepika, adding "Are not rapes happening in India, why are not people accepting it." She stated that there is a 'corrupt' mindset which is 'exploiting' religion by politicising every social issue.
Earlier, Pratik Sinha, Co-founder of fact checking portal AltNews, says Chairperson, NCW Rekha Sharma had soon started clean up her twitter history and removed 470 tweets.
"After she protected her Twitter account, NCW Chairperson has deleted nearly 460 tweets. Often the first thing Twitter users do after protecting their account after such controversies is to delete old tweets. So, we started monitoring her Twitter account and we kept archiving her account at regular intervals and found that her total tweets dropped down to 16,461 from 16,937 at the time she protected her account." He adds that it may be difficult to determine the content of tweets deleted besides the ones which are already in public domain.