"Please send me the video, as it is very stupid of them. How can they be so childish. This is their personal matter and it should not have happened on flight. This is unacceptable"
K Koushal
In violation of its own Flight Operations Announcement Guide, besides ripping off safety instructions of the Directorate General of Civil Aviation (DGCA), a flying official of Indigo engaged into romanticism, by making use of inflight Public Announcement (PA).
As per the content of the viral video, a pilot of Indigo namely Alneez Virani is making an inflight announcement from cockpit, wherein he is expressing his love for his wife, who is onboard and recording everything.
"Alas! I would like to add this opportunity to take/tell you on special announcement that some days I would get a special flight and today is one such flight, where I have a special passenger with us on this flight and I have the privilege of flying my wife to Mumbai. It is just a small thing for everybody, but means a lot to me. Just wish to share the happiness with all of you on board," verbatim of public announcement by the Indigo pilot in command Alneez Virani.
One of the aviation experts claimed that most of the pilots, especially from Indigo have ridiculed this industry (aviation) and airline operators have a huge role to play in this kind of ludicrous activities on flights.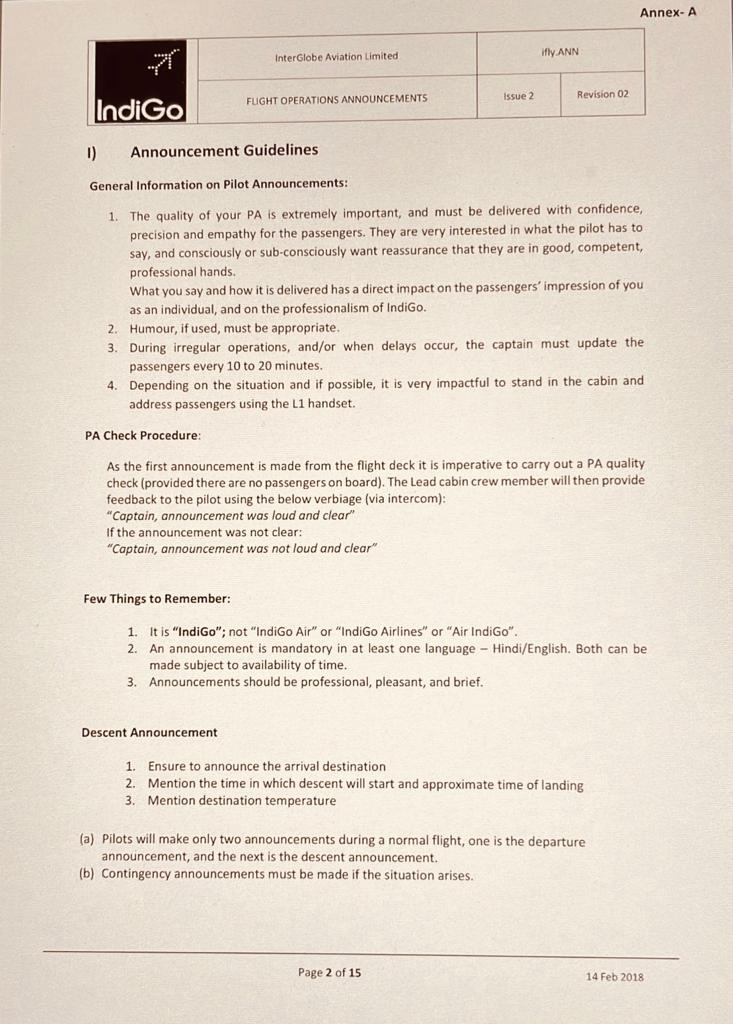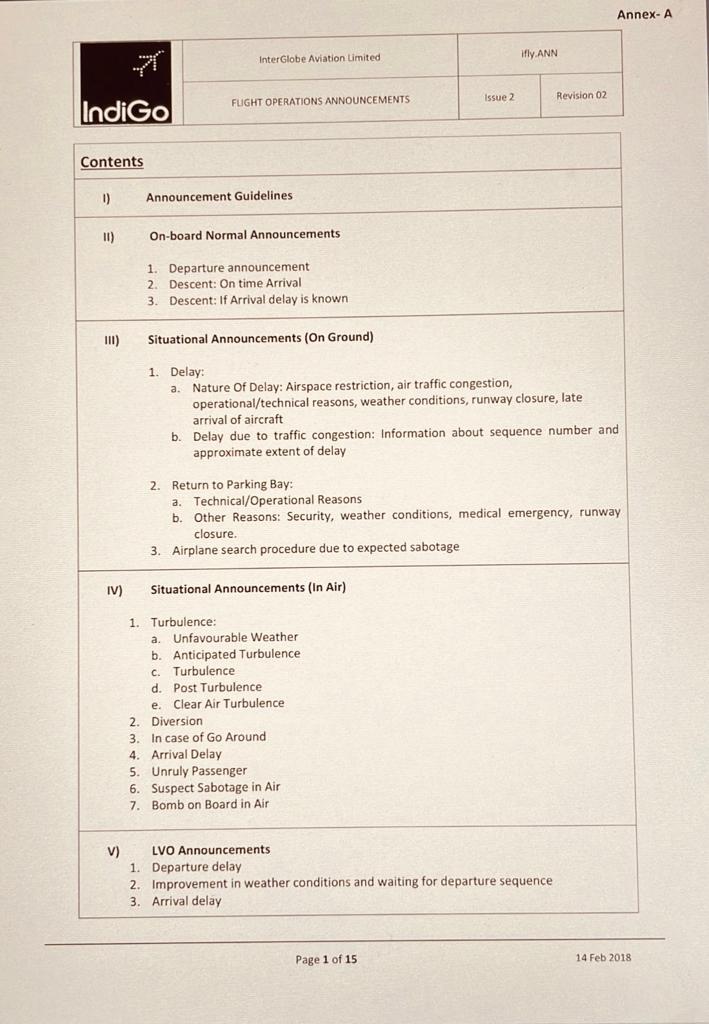 "After this incident, Public Relation (PR) section of the Indigo circulated this news among all major national newspapers, trying to portray positive image of the Indigo and all newspapers carried the report, without questioning the violation of Indigo's Flight Operations Announcement Guide and safety norms, which otherwise restricts flying officials from doing anything nonsense like this," said an aviation expert.
When The Typewriter accessed the Flight Operations Announcement guide (Issue 2 / Revision 02) of the Indigo, InterGlobe Aviation Limited, it came to fore that pilots will make only two announcements during a normal flight, one is the departure announcement and the next is the descend announcement.
"Contingency announcements must be made if the situation arises," reads the Flight Operations Announcement Guide.
Meanwhile, the viral video has also attracted the public ire, wherein netizens have castigated Indigo staff for reducing aviation industry into a laughing stock.
"Sorry to disappoint many, but this dramabazi needs to stop. Everyone is competing for social media eyeballs, which is not going to end well," wrote one of the twitter user.
Another added, "Its unsettling when people use their professional environment to further their personal interests on social media."
An aviation veteran, who happened to be part of Indigo, wrote, "It's becoming a culture thing: XYZ did it so why shouldn't I. Lack of supervision and control one of the consequences of a company's increase in size and market share."
One more twitter user said, "Are not masks still mandatory in the Aircraft cabin? Or is there an exemption for photo taking."
A senior officer of DGCA, wishing not to be named said that this is childish and warrants action against the erring flying pilot.
"Please send me the video, as it is very stupid of them. How can they be so childish. This is their personal matter and it should not have happened on flight. This is unacceptable," said senior officer of DGCA, adding that airline operators must take these incidents seriously. This incident warrants an action against the erring pilot.
When contacted Vice President, Indigo Capt Ashim Mitra after listening to the query said that he is in overseas and shall call back within half an hour, but till the filing of this report Mr Mitra neither called back not picked up the call.