'During interrogation of the accused by the Investigating Officer (IO), the accused has threatened the IO of dire consequences as he has so many acquaintances in administration'
K Koushal
Days after accusing Deputy Commissioner (DC), Jammu, Avny Lavasa of 'interfering' in the fair investigation of a high profile corruption case, besides making other significant revelations in the objections, the Anti Corruption Bureau (ACB), Jammu had withdrawn the same to file a new one with omission of many important paragraphs pertaining to the Deputy Commissioner, some prominent Jewelers and threats by the accused Tehsildar to the Investigating Officer (IO).
According to the official documents (in possession of The Typewriter), ACB had accused the Deputy Commissioner Jammu of allegedly interfering in the fair investigation of the case by summoning the independent witnesses in whose presence accused (Tehsildar) was caught red handed while demanding & accepting bribes.
ACB in its previous objections had made many startling revelations, which had been omitted by the Bureau for the reasons best known to them in their fresh submission. In the original objections, the ACB had stated "From the examination of owners of Rakesh Jewelers, the documents of purchases of gold by the accused in the name of his wife worth Rs 36 lacs (aprox.) has been obtained. Also he has purchased Jewellery of worth approx Rs 33 lacs from Vardhman Jewelers and has also kept about 01-kg. of gold in the custody of the said Jeweler." This paragraph has been missing from the fresh objections filed by the ACB.
It added, "During interrogation of the accused by the Investigating Officer (IO), the accused has threatened the IO of dire consequences as he has so many acquaintances in administration. He is such an influential person that despite his arrest since 14/11/2022 he has not yet been suspended."
As per the relevant records, in the objections filed in Bail Application No. 398/2022 on 25th of November 2022, ACB has stated that a complaint was received in police station ACB Rajouri (camp Jammu) on 01-11-2022 from the complainant namely Sominder Singh alias Sourav regarding demand of bribe from him by Tehsildar Bahu namely Rohit Sharma.
"It is alleged in the complaint that his mother, Kuldeep Kour of Nari, Tehsil R.S. Pura, is the attorney holder of land measuring 02-Kanal falling under Kh. No. 159/min situated at Thanger near Medicity Hospital Jammu which has been purchased from Rajinder Sapro (owner) through agreement to sell dated 16-10-2007 and Power of attorney dated 16-10-2007 for sale consideration of Rs. 50.00-lakh," reads the objections filed by the ACB, adding, "His mother wants to sell one Kanal of land out of above said two Kanals to one person namely Jagjeet Singh for which revenue fard is required so, he on behalf of his mother approached Tehsildar Bahu for issuance of fard and other relevant documents for sale of land."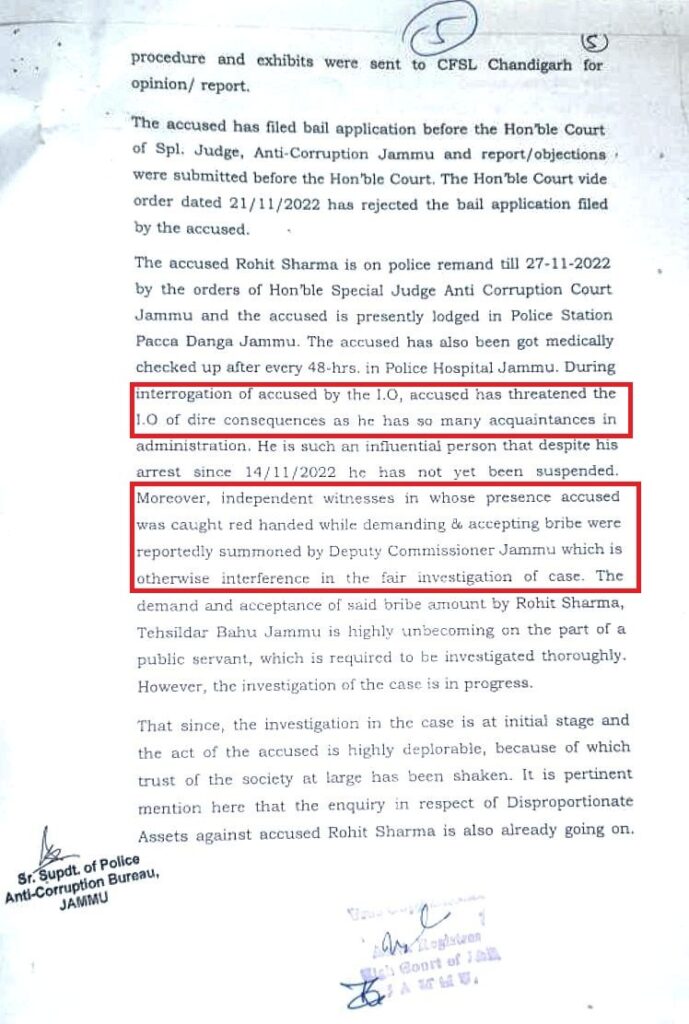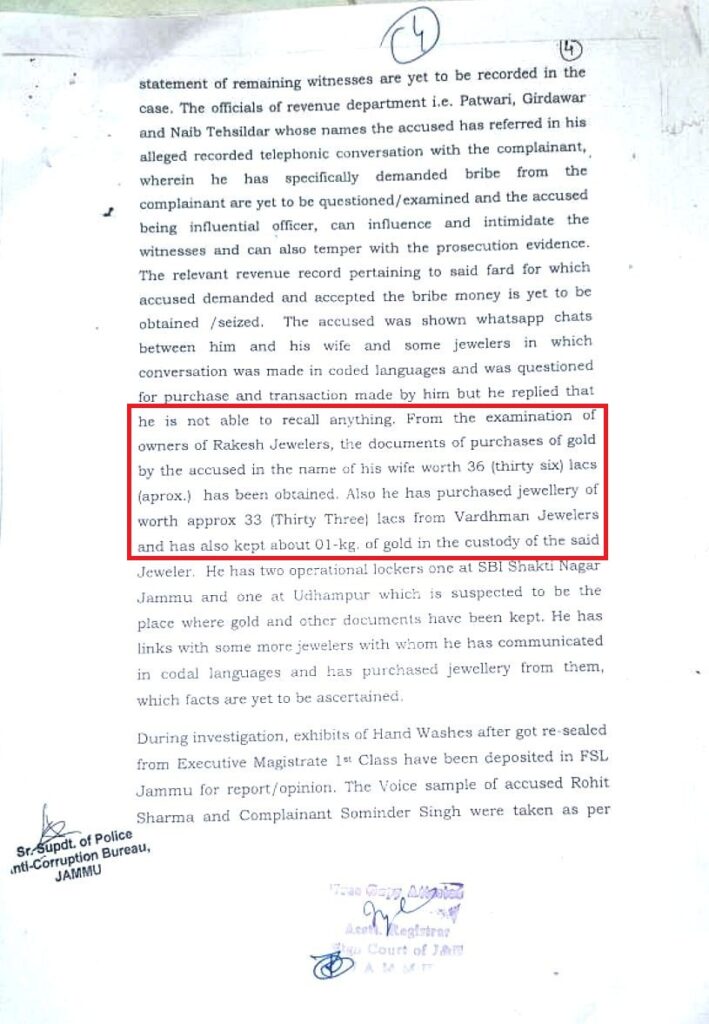 The objections read, "Complainant requested Tehsildar namely Rohit Sharma for issue of fard, however, Tehsildar Bahu Rohit Sharma in lieu of issuance of fard demanded Rs 2.00 lakh as bribe. Since, he was not willing to pay any bribe for his work, he was forced to give a bribe by the Tehsildar Rohit Sharma. It was requested to take necessary action against such corrupt officers."
It stated that accordingly, allegation of demand of bribe was verified through verifying officer, who submitted his report on 14-11-2022. As per the complaint and report of verifying officer, prima facie commission of offence u/s 7 of Prevention of Corruption Act, 1988 is made out against the accused Rohit Sharma Tehsildar Bahu Jammu.
"As such, instant case was registered u/s 7 of Prevention of Corruption Act, 1988 and the investigation of the case was entrusted to Dy. SP Sunny Gupta of P/S ACB Rajouri (camp Jammu), who was also trap laying officer/IO for laying the trap in the case," reads the petition, adding "That after registration of FIR, a trap team was constituted, which completed required documentation in presence of independent witnesses called for the purpose and a successful trap was laid by Dy. SP Sunny Gupta (TLO/IO) alongwith the other team members and independent witnesses in Tehsil office Bahu Jammu on 14-11-2022 wherein Rohit Sharma, Tehsildar Bahu Jammu was caught red handed while demanding and accepting the bribe amount of Rs, 50,000/- from the complainant, which was recovered and seized from his possession on-spot in presence of the independent witnesses."
In the preceding paragraphs, the ACB stated that independent witnesses in whose presence the accused was caught red handed while demanding and accepting bribe were reportedly summoned by Deputy Commissioner, Jammu which is otherwise alleged interference in the fair investigation of the case.
However, on 29th of November 2022, ACB withdrew earlier objections and filed fresh objections, wherein the paragraph pertaining to the Deputy Commissioner, Jammu was also missing.
Meanwhile, a senior police officer wishing not to be named shared that ACB had to succumb to the pressure of the administration to remove the paragraph wherein it was mentioned that the Deputy Commissioner is allegedly interfering in the fair investigation.
He maintained that earlier as well officers of the commissioner level were endorsing innocence of the accused Tehsildar and many meetings in this regard were convened.
Senior lawyer Sheikh Shakeel asserted that the accused Tehsildar is being allegedly shielded at the behest of his lobby.
"The matter should go to the CBI for independent investigation as it appears that there is some hidden agenda of those who are playing with the facts and it can be assumed from the manner in which objections have been changed", Sheikh Shakeel said and added that it is a fit case to conclude that ACB is under pressure.
A senior lawyer pleading anonymity shared that seeing the content of both the documents, it is a crystal clear case of 'favouritism'. "When we talk about Section 5 of Prevention of Corruption Act, it becomes imperative to see whether it applies on such institution or not, which requires a threadbare discussion," said senior lawyer, adding that which agency now will investigate the investigation agency itself, considering such approach.
Talking to The Typewriter, Additional Advocate General, Monika Kohli said "I may not be able to speak on the matter".
Deputy Commissioner, Jammu, Avny Lavasa, when contacted, said "I am not aware of it".
When contacted Director, Anti Corruption Bureau (ACB), Anand Jain expressed his helplessness to speak over the matter, citing that he is busy in a meeting.
Despite repeated attempts, Senior Superintendent of Police (SSP), ACB, Jammu, Dalip Kumar could not be contacted.