"As of now the government has failed to reveal how many fake gun licenses have been seized so far"
K Koushal
Believed to be the Asia's largest manufacturers of single and double barrel guns, Rs 100 Crore industry in Jammu and Kashmir has been plunged on ventilator, courtesy government 'apathy'.
"Since 2017, the government is after this trade, due to reasons best known to the bureaucrats and politicians," said a Jammu based trader, wishing anonymity. He added that the industry in Jammu and Kashmir was licensed by Ministry of Home Affairs (MHA) in 1958 and there are 19 manufactures, each with a stipulated quota of 1500 guns per year.
He stated that there are more than 5000 skilled and unskilled workers directly associated with this trade, which are presently being affected. In 2016, the government superseded the Arms Rules 1962 by enacting Arms Rules 2016, which envisaged safe use and storage of firearms, provisions for granting restricted category of arms to those living in militancy-hit areas and a decision on application for arms license within two months were part of the new rules issued by the central government.
"In 2016, MHA issued guidelines that all traders shall be provided with a unique ID number to help in tracking the gun licenses, but as of now no such number has been allotted," said trader, adding that the same order also talked about conversion of license of traders/sale, which is also not implemented.
According to the Arms Rules, 2016, every person applying for an arms license or a rifle club or association or firing range or staff employed by such club or a manufacturer or dealer shall be required to complete the arms and ammunition safety training course.
"The training course involves basic arms and ammunition safety practices, including safe handling and carry procedures, firing techniques and procedures, care of arms and ammunition and their safe storage and transportation," said trader, adding that the rules further say that the designated authority will consider granting the restricted or permissible arms to those who face grave and anticipated threat to their life by reason of being resident of a geographical area or areas where militants, terrorists or extremists are most active, and those being the prime target in the eyes of militants, any government official, any MP, MLA or their family members.
He maintained that the licensing authority, after considering the application and on being satisfied that the applicant has fulfilled the eligibility conditions, shall grant or refuse to grant a license of arms or ammunition within a period of sixty days of the receipt of the police report.
"We demand implementation of Arms Rule 2016 and clearance of pending review files," said trader, claiming that in 2018, after Rajasthan ATS unearthed gun licenses scam, the erstwhile state government ordered District Magistrate (DM) to identify all illegally issued gun licenses, revoke them and ensure deposit of all such arms at Police Stations within 15 days. The government also banned the issuance of fresh arms licenses till further order. Key districts identified for the verification included Kupwara Ganderbal, Leh, Rajouri, Ramban, Reasi and Udhampur.
"It is claimed that there is a market of fake license in Jammu and Kashmir, but as of now the government has failed to reveal how many fake gun licenses have been seized so far," said trader, adding, "It is assumed that single and double barrel guns are being used by anti-national elements, but so far there is not a single case of crime related to single and double barrel licensed guns in Jammu and Kashmir."
Talking to The Typewriter, a senior bureaucrat, having knowledge of the matter, wishing anonymity informed that the J&K government had in 2018 recommended a CBI probe into the gun license racket after names of public officials, especially some IAS officers surfaced during investigations carried out by Rajasthan police's Anti-Terror Squad (ATS). The unholy nexus between bureaucrats-middlemen-arms dealers was unraveled by the Rajasthan police's ATS in 2017.
"Though, the CBI is investigating around 200 thousand such licenses issued by these officers, but the sources indicate that the number exceeds 400 thousand or even more," senior bureaucrat said and added that even the media reports suggest that of 429301 gun license issued over the years, less than 10 percent were issued to the residents of Jammu and Kashmir.
In March last year, the J&K Home Department had directed the district development commissioners not to issue any fresh arms licenses and submit all gun license details since 2012.
These directives as per a government order had been issued to ensure "maintenance of law and order" in the state before the polls.
Principal Secretary Home, Shaleen Kabra, in the order said that Home Department has received reports from various agencies particularly CID of J&K Police and Ministry of Home Affairs, Government of India regarding "indiscriminate issuance" of arms licenses within the Jammu and Kashmir.
"No individual fresh license shall be issued by the district magistrate. The district magistrates shall take urgent steps to revoke all such individual arms licenses issued to various persons (excluding the personnel belonging to the state police, Army and CAPFs), consequent to the notification of Arms Rules, 2016. Further, the district magistrate shall direct all such persons, whose license is revoked, to deposit any arms or ammunition, with the officer I/C of the nearest police station," the order reads.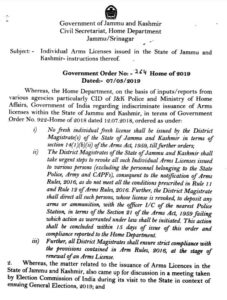 Last year, Jammu and Kashmir government also ordered an inquiry by the State Vigilance Organisation into large scale issuance of individual arms licenses in alleged contravention of rules.
However, disputing the claims of the government that the licenses were allegedly issued in the name of security men and more than one weapon was purchased against one license, the trader said that in last three years, why no arrests have been made.
"Security personnel are the biggest customer in Jammu and Kashmir, due to their post retirement job prospects, which doesn't mean that 100 percent licenses were issued in the name of security men were fake," said trader, adding, "We are legitimate tax payers and follow the guidelines in true spirit. If government or any of its agencies feel that some elements are involved in anti-social activities, they should be taken to task, but sabotaging entire trade is largely affecting families associated with this business.
He further said that the government must act in a transparent manner by updating people, especially associated with this trade, with the status of verification.
When tried to contact Principal Secretary to the Govt. Home Department, J&K, Shaleen Kabra, he was not available for comments despite repeated attempts.