"You would be debarred from appearing in all Examinations to be conducted by J&K PSC and also by other Public Service Commissions of the Country, including Union Public Service Commission"
K Koushal
In an apparent attempt to 'threaten' and 'discourage' candidates from raising questions or seeking clarity over the functioning of the system, Jammu and Kashmir Public Service Commission (JKPSC) has issued a 'strong and harsh' show cause notice to a candidate, 'intimidating' him to be debarred from appearing in all examinations.
According to the show cause notice, J&K Public Service Commission vide Notification No. 02- PSC (DR-P) of 2020, dated: 11.09.2020 had invited applications for the posts of Veterinary Assistant Surgeon in Animal and Sheep Husbandry Department.
The candidate, namely Rahil Razak Bhat had applied for the post of Veterinary Assistant Surgeon in Animal and sheep Husbandry Department in pursuance to the said Notification vide Application No 20010200200409.
Show cause notice further reads, "Whereas, on scrutiny of your documents and on the basis of your eligibility, you were allowed to appear in the said examination conducted on 22-11-2020 at Srinagar under Roll No 2100315."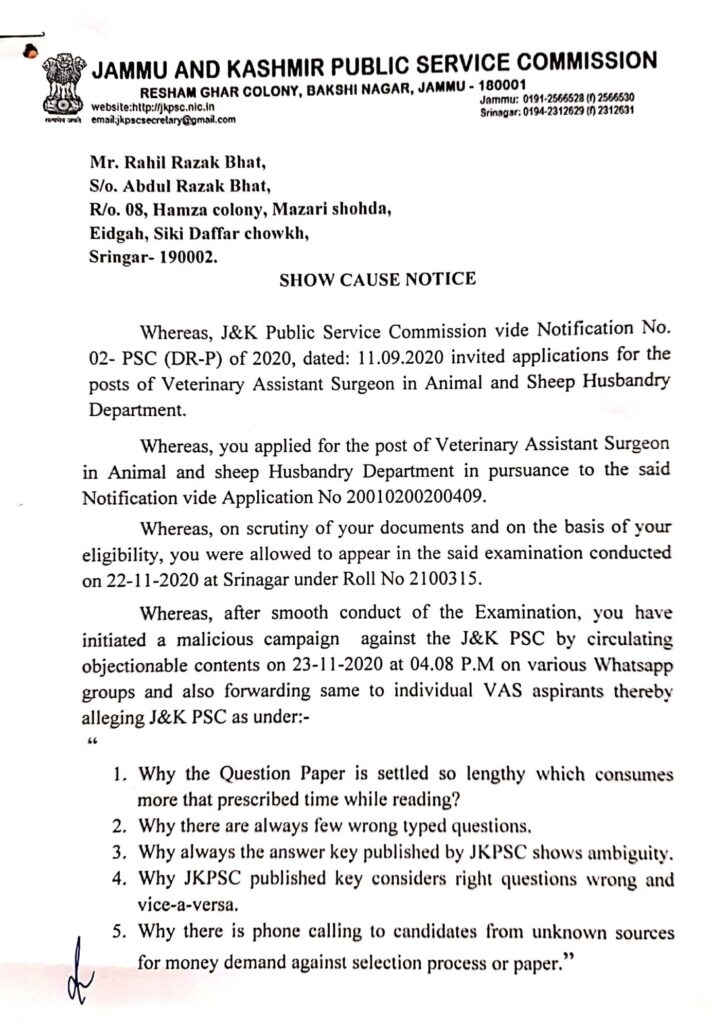 It added, "Whereas, after smooth conduct of the Examination, you have initiated a malicious campaign against the J&K PSC by circulating objectionable contents on 23-11-2020 at 04.08 P.M on various WhatsApp groups and also forwarding same to individual VAS aspirants."
The candidate, according to JKPSC, in his personal WhatsApp groups had raised some questions, including Why the Question Paper is settled so lengthy which consumes more that prescribed time while reading? Why there are always few wrong typed questions? Why always the answer key published by JKPSC shows ambiguity? Why JKPSC published key considers right questions wrong and vice-a-versa? Why there is phone calling to candidates from unknown sources for money demand against selection process or paper?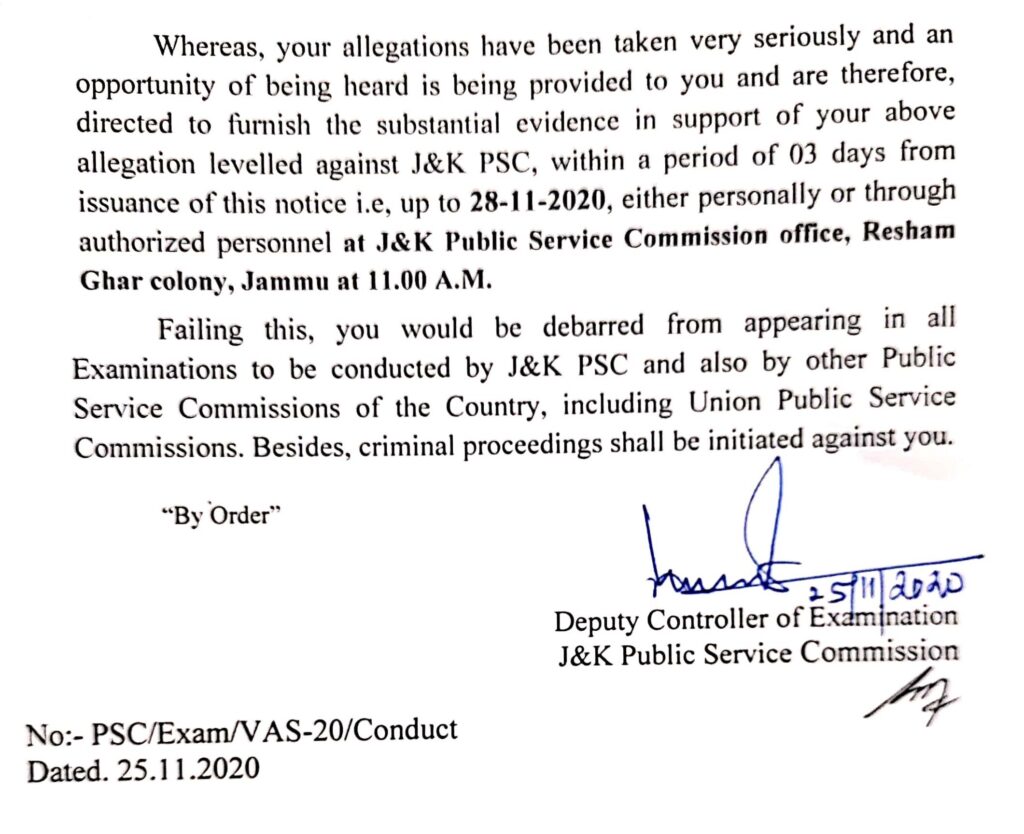 The show cause notice served to the VAS candidate further reads, whereas, your allegations have been taken very seriously and an opportunity of being heard is being provided to you and are therefore, directed to furnish the substantial evidence in support of your above allegation levelled against J&K PSC, within a period of 03 days from issuance of this notice i.e, up to 28-11-2020, either personally or through authorized personnel at J&K Public Service Commission office, Resham Ghar colony, Jammu at 11.00 A.M.
The J&K PSC notice concluded with an unusual observation that if the candidate failed to furnish the substantial evidence, he would be debarred from appearing in all Examinations to be conducted by J&K PSC and also by other Public Service Commissions of the Country, including Union Public Service Commissions. Besides, criminal proceedings shall be initiated against him.
"How can they (JKPSC) do it. They cannot do it legally. They have done wrong by serving notice. They could have asked the candidate in a transparent manner that we have noticed your observations and we are here to listen to your grievances through this show cause notice," said a former JKPSC Controller of Examination, wishing anonymity, adding that the first part is irrelevant and probable action is also irrelevant. There is no such cause of action required.
He stated that the JKPSC would have taken it in a positive manner, instead of courting controversy out of it.
"In a transparent system, such questions always come up. I believe these are suggestions, so JKPSC would have taken it positively and would have found solution to it," said JKPSC former Controller of Examination.
Talking to The Typewriter Mushtaq Ahmad, Additional Secretary, J&KPSC said that the show cause notice is absolutely right.
"The candidate has levelled allegations against the commission, so he has to substantiate his claims," said Mushtaq, adding that let the candidate furnish the evident to back his claims.
When contacted Chairman JKPSC, BR Sharma was unavailable for comments.