'There are multiple complaints against Capt Amit Garg, especially pertaining to his conduct, but unfortunately DGCA is reportedly silent on the matter'
K Koushal
Despite being 'regressive' in his approach towards developmental projects pertaining to the aviation industry of India, a man allegedly accused of causing unnecessary impediments in the ambitious Gyrocopters project has been reportedly enjoying patronage of Directorate General of Civil Aviation (DGCA).
Talking to The Typewriter, a senior official of DGCA, wishing anonymity shared that few officers in DGCA are inclined towards this man, who has caused great loss to the aviation industry of India.
"There is a written complaint pertaining to undue delay in publishing of Civil Aviation Requirements (CARs) for Gyroplanes, but concerned authorities are not in a mood to take cognizance of the matter," said official, adding that this project would have registered name of India in developed countries like the US and European countries for policing duties.
Producing the content of the representation verbatim, "I am constrained to bring to your kind attention the delay in publishing of CARs for Gyroplanes. We tried to do our best and did everything possible by our contribution towards the Joint Working Group formed by DGCA for amendment of Aircraft Rules and forming of necessary CARs for Gyroplanes in India," reads the representation (copy in possession of The Typewriter).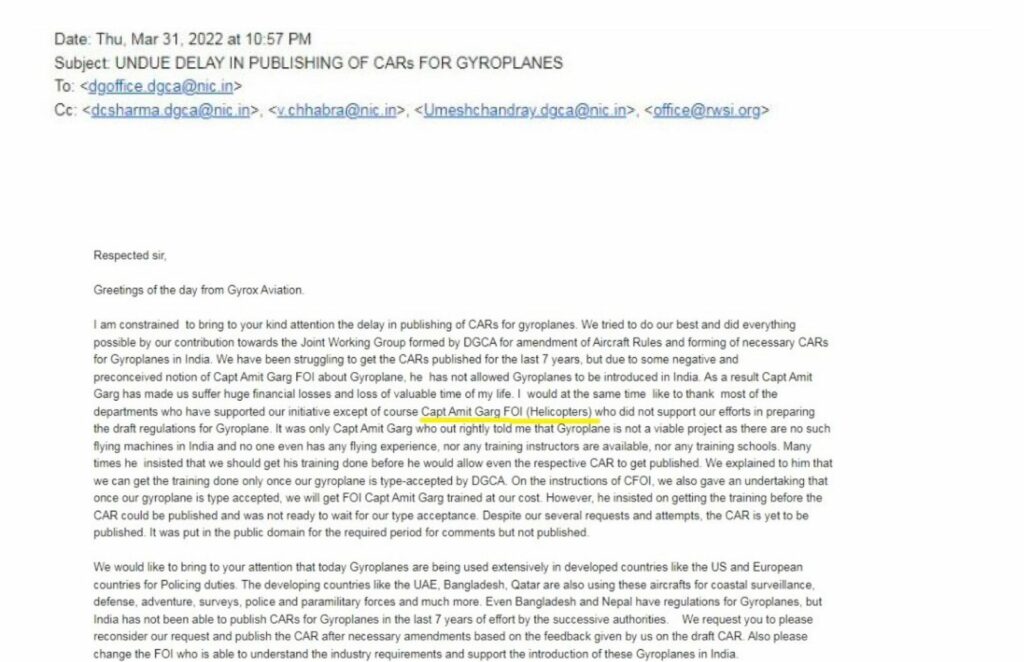 It reads, "We have been struggling to get the CARs published for the last 7 years, but due to some negative and preconceived notion of Capt Amit Garg (FOI) about Gyroplane, he has not allowed Gyroplanes to be introduced in India."
"As a result Capt Amit Garg has made us suffer huge financial losses and loss of valuable time of my life. I would at the same time like to thank most of the departments who have supported our initiative except of course Capt Amit Garg FOI (Helicopters) who did not support our efforts in preparing the draft regulations for Gyroplane," reads the representation, adding "It was only Capt Amit Garg who out rightly told me that Gyroplane is not a viable project as there are no such flying machines in India and no one even has any flying experience, nor any training instructors are available, nor any training schools."
The representation further reads, "Many times he (Capt Garg) insisted that we should get his training done before he would allow even the respective CAR to get published. We explained to him that we can get the training done only once our Gyroplane is type-accepted by DGCA."
It adds, "On the instructions of CFOI, we also gave an undertaking that once our Gyroplane is type accepted, we will get FOI Capt Amit Garg trained at our cost. However, he insisted on getting the training before the CAR could be published and was not ready to wait for our type acceptance. Despite our several requests and attempts, the CAR is yet to be published. It was put in the public domain for the required period for comments but not published."
The representation also stated, "We would like to bring to your attention that today Gyroplanes are being used extensively in developed countries like the US and European countries for Policing duties. The developing countries like the UAE, Bangladesh and Qatar are also using these aircrafts for coastal surveillance, defense, adventure, surveys, police and paramilitary forces and much more. Even Bangladesh and Nepal have regulations for Gyroplanes, but India has not been able to publish CARs for Gyroplanes in the last 7 years of effort by the successive authorities.
The Typewriter has already done a story about various complaints and representations against Capt Amit Garg.
https://thetypewriter.in/dgca-in-dock-fraternity-accuses-directorate-of-bending-rules-for-dy-cfoi-to-accommodate-yes-man/
However, a senior official alleged that DGCA is reportedly showing unnecessary patronage to Capt Amit Garg by involving him in the decision making process.
"Capt Amit Garg was made member of the panel constituted to review eligibility criteria for the selection of Dy.CFOI (Helicopter)," said the official, adding that this shows the amount of influence Capt Amit Garg had in DGCA.
The official further alleged that there are multiple complaints against Capt Amit Garg, especially pertaining to his conduct, but unfortunately DGCA is reportedly silent on the matter.
When contacted Capt Amit Garg, he initially admitted to be part of the committee, but later on denied his association. "I vividly remember, I was part of the committee," said Capt Amit Garg. When asked about the representation accusing him of causing hindrances in the project for vested interests, Capt Amit Garg refused to be part of any such project.
When contacted CFOI, Vivek Chabbra he said that he has no knowledge about this project.
When tried to contact former DyCFOI- U C Yadav he was not available for comments.
Joint Director General, DC Sharma, expressed ignorance over the matter.
Director General, DGCA, Arun Kumar was also not available for comments.