I have not taken anything of this sort on rent, but may be tourism department during their programme have rented out it to someone
Gulsher Singh
Directorate of Tourism Kashmir has issued a letter to Deputy Superintendent of Police (DySP), asking him to return Trekking Equipment along with rental balance. However, concerned cop has denied taking any such equipment on rent.
As per office order No DTK/REC/242/2907, dated 05-09-2022, DySP Security, Srinagar International Airport, Sheikh Adil has been asked to return the trekking equipment along with balance rentals.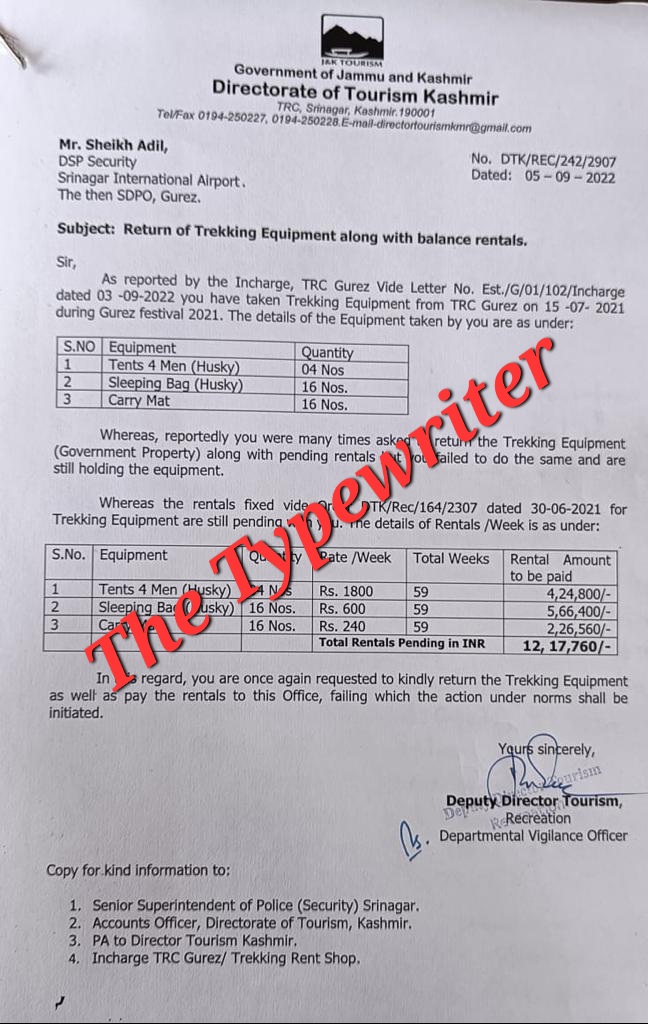 "As reported by the incharge, TRC Gurez vide letter no Est./G/01/102/Incharge dated 03-09-2022, you have taken trekking equipment from TRC Gurez on 15-07-2021 during Gurez festival 2021," reads the letter, adding that DySP had been many times asked to return the Trekking equipment (Government Property) along with pending rentals but the cop failed to do the same and is still holding the equipment.
The letter further stated that the rentals fixed vide order DTK/Rec/164/2307 dated 30-06-2021 for Trekking equipment are still pending with the deputy Superintendent of Police-Sheikh Adil.
Talking to The Typewriter, a senior officer of the Directorate of Tourism Kashmir informed that the DySP has kept trekking equipment with him for more than one year, causing rental amount of Rs 12, 17, 760.
"Total rentals pending against DySP is more than 12 lakh because he has kept the equipments for more than one year," said officer.
Meanwhile, when contacted Dy. Director Tourism, Recreation/Litigation- Malik Waseem Ahmad admitted that the letter in this regard has been issued to the concerned DySP.
"Letter has been issued to DySP few days back and content of the letter is self-explanatory," said Waseem, adding that this is the first letter since he has joined the department.
When asked about future course of action, Waseem said that it appears that the concerned officer is a law abiding citizen and it is clear in the letter that the property belongs to government. "We are hopeful that the concerned officer shall return the equipment as well as balanced rentals," he said.
When contacted Deputy Superintendent of Police (DySP)-Sheikh Adil denied taking any equipment from tourism department
"There is absolutely nothing like that, we don't have any hiking instrument. Moreover, I have not received any letter from the Directorate of Tourism," said DySP, adding "The cost of tent is between Rs 4000-6000, which cannot be rented out at an amount accrued in lakhs."
"I have not taken anything of this sort on rent, but may be tourism department during their programme have rented out it to someone," said Adil, adding, "The directorate must show me the rent agreement."
He further termed the letter by the Directorate of Tourism Kashmir as 'Immaterial', saying "When we have not taken anything on rent, how come this letter is sent to me."