Former Principal patronizes Nursing Orderly, serves post of Cleaner on platter
Anupama Sharma
Jammu, April 19
In sheer violation of rules and regulations, the people at helm of affairs at Government Medical College and Hospital (GMC&H) have allegedly changed the cadre of a Nursing Orderly (NO), posted in Shri Maharaja Gulab Singh (SMGS) Hospital. Moreover, in this regard, the hospital administration has issued two orders with same date and dispatch number.
According to sources, administration of Government Medical College and Hospital, especially the then Principal GMC&H, Dr. Zahid Gilani was so generous for the said Nursing orderly that he blessed him with promotion without any sitting of the Departmental Promotion Committee (DPC) and his cadre was accordingly changed.
The then Principal GMC&H-Dr. Zahid Gilani issued a order dated 13-05-2016 vide no. GMC/PS/16/order/1343 which reads that "It is hereby ordered that Sh Rohan Singh, Nursing Orderly, SMGS Hospital Jammu who is having a driving license shall henceforth work as Cleaner. Further his salary shall be drawn against the available post of driver in SMGS Hospital Jammu"
Meanwhile, another order with same date and dispatch number, issued by none other than the then principal GMC&H Dr. Zahid Gilani which reads that "Representation was received from Sh Rohan Singh Nursing Orderly for consideration for the post of Cleaner in SMGS Hospital as he is also in possession of driving license".
"After due consideration and in view of shortage of cleaner in the staff it is ordered that Sh Rohan Singh Nursing orderly shall now work as Cleaner against the any vacant Post in the cadre and considered for all purposes in the cadre of Cleaner. No Lien shall be retained in the Cadre of Nursing Order", further reads the order issued by the then GMC&H-Dr. Zahid Gilani with same date and dispatch number.
What were the circumstances which led the then Principal GMC&H to issue two different orders with same Date and Dispatch number are not known but it is believed that services of a Medical Superintendent were utilized by the beneficiary for this grave violation.
It is clearly evident from the fact that the then Principal had issued the orders without application of his mind and the influence of the Nursing orderly was so high that he forced the then Principal GMC&H to issue order for changing cadre of the Nursing Orderly which is otherwise done in DPC.
Although the content of both the orders was different and issuance of two orders in the favour of a Nursing Orderly clearly shows the quantum of his influence over the senior officials.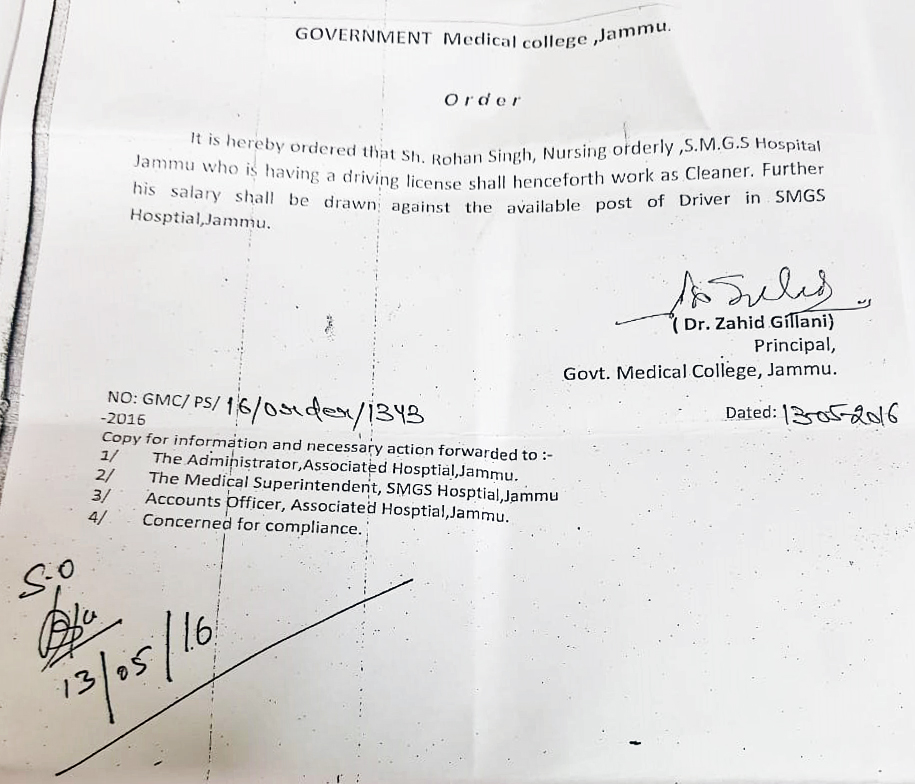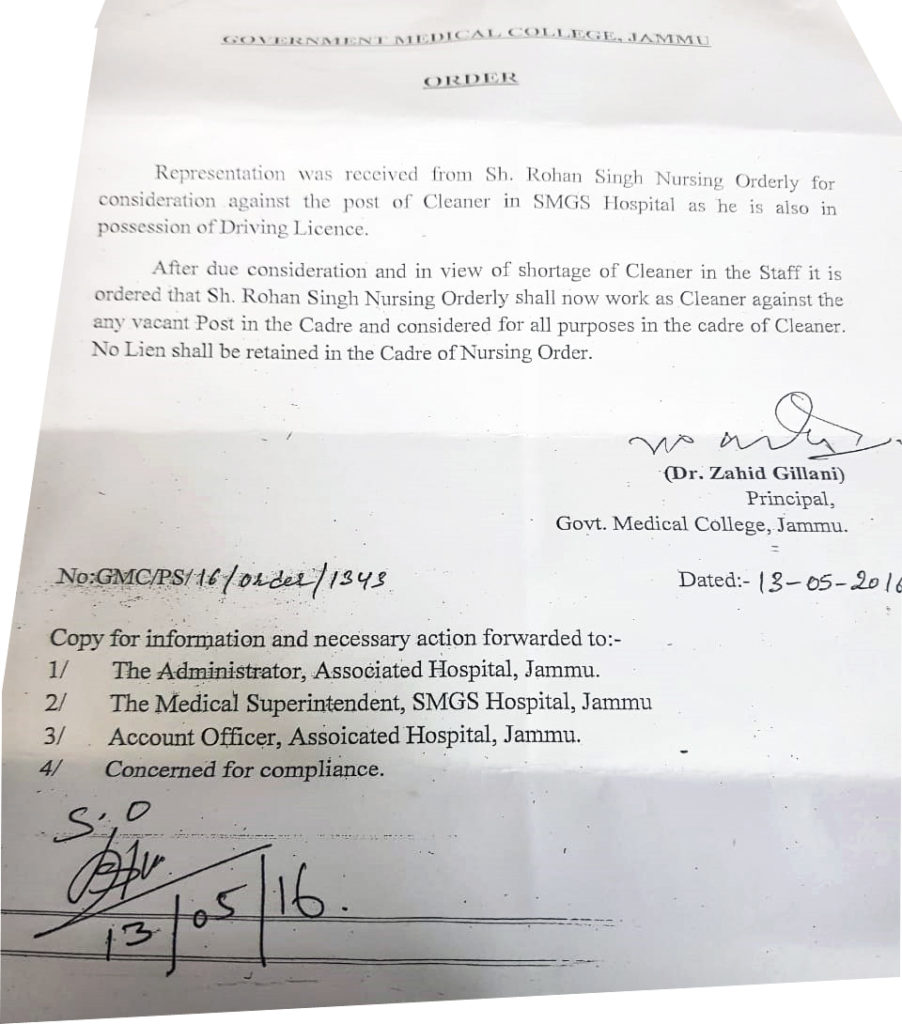 The grade of the Nursing orderly is Rs 1300 and the grade of the Cleaner is Rs 1400 and presently Rohan Singh is working as driver of Medical Superintended GMC&H-Dr Dara Singh on the mere eligibility that he possesses driving license.
"In this case, the change of Cadre into Higher Pay Scale was done in violation of Civil Services Regulations (CSR)," said an expert while talking to The Typewriter.
Despite repeated attempts, former Principal, Government Medical College and Hospital, Jammu-Dr Zahid Gillani was unable to connect.
"We have received a letter from Administration as a grievance and we have responded to it that we cannot change the cadre of the person, which is beyond our limit, " said Sunanda Raina-Principal GMC&H adding that an action can be taken against person who has misused his position by exceeding his domain.